Welcome
Welcome to St. John's Anglican Cemetery in York, Haldimand County. Established in 1787, it has a very long,
rich history and beautiful views, in the peaceful hamlet of York, on the Grand River.

We invite you to explore The York Cemetery, through this growing website.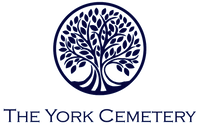 St. John's Cemetery Under New Management
The Anglican Diocese of Niagara had been unable to fully care for the cemetery for many years and decided to sell it. Though the name and blessings remain, The York Cemetery is no longer owned or managed by the Anglican Church. The Sacred ground will always remain Holy, and we hope to involve local Congregations and the community as we move forward.
We are excited to enhance, improve and revitalize this precious cemetery, by adding more beauty to the resting place of your loved ones. We have many exciting plans that will unfold over the coming years. We look forward to beautifying this cemetery into a gem for the community; as a space to walk, a peaceful seat to reflect, or simply to learn about local history.
Location
The York - St. John's Cemetery
Open Daily:
During daylight hours
Dawn to Dusk